On Wednesday, September 25, a group of Protégés were given a private tour of United Oil Projects Co. Chemicals Division in Mina Abdallah, courtesy of Qurain Petrochemical Industries Co. The Protégés began their day at KIPCO Tower where they were met by Abeer Al-Omar, Corporate Communications Manager at KIPCO and Mr. Ahmad Al-Masqati, Head of PR at QPIC. Together, they made their way to Mina Abdallah where Mr. Tony Masefield, Chemical Division Manager welcomed them to the UOP Co. Chemicals Division Plant.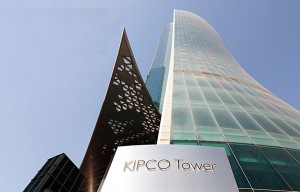 First the Protégés received a short presentation about the company, previously known as Kuwait Chemicals Manufacturing Company Mr. Masefield explained the transformation of the company over the years since its inception in 1978. He also explained the uses for the resins produced at the plant.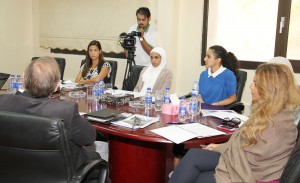 Next the Protégés strapped on their hardhats and toured the plant. From raw materials to finished product, the Protégés witnessed the processes by which the resins are made.
They were even taken into the laboratory where the formulas are created and tested, and visited the control room from which all the machinery and equipment is operated.