GENERAL DESCRIPTION
Worldwide, civil society is changing. New funding models, new partnership ventures and new tools and technology have started to emerge and are showing alternative ways for the sector to pioneer social change.
The socioeconomic, humanitarian and climate-related challenges we are facing are also evolving, and becoming increasingly complex and interconnected. In order to address them, the sector needs to show its ability to remain agile and adaptive, and to spearhead new thinking and approaches to social development through responsible and inclusive innovation.
It also needs to effectively engage stakeholders across sectors and communities - continuing to bridge the gap between people and institutions, developing new collaboration models, and creating spaces for cross-learning, knowledge-sharing and reflection - as no individual sector or organization can address these challenges alone.
These are the conditions for social innovation, which has been defined as "new products, services, models, or processes that simultaneously meet a social need, lead to new or improved capabilities and relationships, and better use assets and resources".
This year's Sharakah workshops series, taking place on March 17-19, 2020 at the Chairman's Club (56th floor) in KIPCO Tower, will focus on providing local non-profits with the foundation for initiating social innovation within their organizations and communities, whether it means adapting to the changing world and experimenting with different organizing principles, opening up program design processes, changing the way we interact with each other and with our partners and stakeholders, recognizing the value of diversity, or rethinking technology for social innovation.
WORKSHOP DESCRIPTION
DIVERSITY AND INCLUSION AS DRIVERS FOR INNOVATION
By bringing diversity and inclusion to the forefront, even the most traditional organizations can enhance the design and implementation of social solutions. A more diverse team brings with it more diversity of thought. And diversity of thought—the cognitive diversity that benefits from different experiences and perspectives—leads to more creativity and innovation. Yet it's not enough to build a diverse workforce, the values and principles that guide our thinking and culture must also be in place. In this workshop, participants will learn social cohesion principles and reflect on what it means to harness truly diverse talent, and how to create an organizational environment that truly welcomes and embraces diversity. Participants will explore what matters, shapes and drives their work.
ALIGNING FOR IMPACT AND CROSS-SECTOR COLLABORATION
While it is widely understood that cross-sector collaboration is necessary to address the complex and systemic challenges we are facing today, it is easier said than done. Developing truly effective and strategic partnerships that create shared value often requires a drastic change in mindsets and relationships. Aligning for Impact is a process that helps structure these new collaborations to maximize impact and innovation. In this workshop, participants will be shown how to create and interpret systems maps, as well as how to identify and harness assets that can lead to collaborations which are aligned for social impact.
PARTICIPATORY DESIGN
Participatory design is another key component of social innovation. It is about how we work with different people at different stages of a project, and often invites stakeholders to co-create the things that are being designed for them, at all stages of the design process – from development to evaluation. This approach marks a shift away from expert-driven approaches and ultimately ensures that the results are usable and relevant. In this workshop, participants will be introduced to the concept and processes of participatory design and will understand how to effectively engage stakeholders in their projects, products or services.
RETHINKING TECHNOLOGY FOR SOCIAL INNOVATION
Technology has become an important tool in the way that non-profits seek to achieve social goals, but technology itself is not automatically and necessarily neutral or inclusive. Different tools can aid in many different aspects of our work, including in how we identify community needs, how we co-create and prototype new solutions, how we scale, govern, evaluate and finance our work… But technology also hides within it dangers and dark sides that are important to surface and discuss. In this workshop, participants will explore some of these big questions in relation to their own work, looking at both the opportunities and dark sides of technology.
BECOMING A LEARNING ORGANIZATION
A learning organization is one that facilitates the learning of its members and continuously transforms itself. The first step in becoming an innovative organization is to ensure that we have systems in place that enable us to be adaptive and responsive to shifting circumstances, and support strategic learning and evaluation. In this workshop, participants will look at the key principles and practices driving learning organizations and explore how we can begin to adapt and adopt them.
WORKSHOP SCHEDULE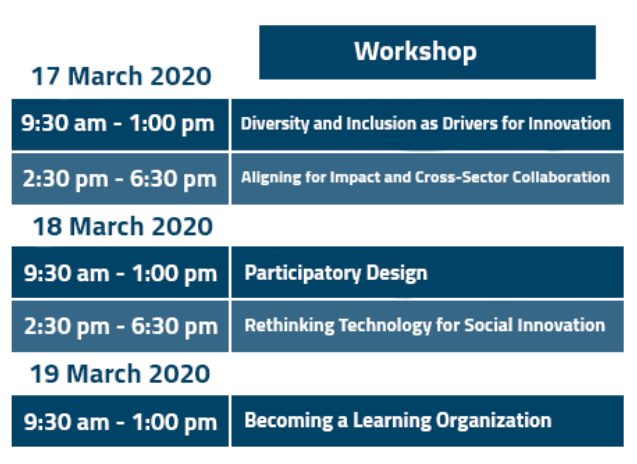 TRAINER BIOS
Louise Pulford
Louise Pulford is the CEO of SIX – a social innovation exchange built on mutual value, relationships and knowledge. SIX works globally to facilitate purposeful cross-sector conversations that challenge and inspire people to use innovation to increase social impact. Louise leads a team of nine spread across London, Hong Kong and Canada to advance the field of social innovation through major programs of work with foundations, universities, corporates and governments. Louise is also building SIX's work to advance culture change within organizations. Louise is a seasoned speaker on building networks, the value of exchange and social innovation globally, and regularly designs and facilitates social innovation training programs for governments, foundations and universities around the world. Louise also publishes regular articles on networks and social innovation. Louise has worked on social innovation with the European Commission since 2010 and she sits on the Mayor of Seoul's Advisory group for social innovation.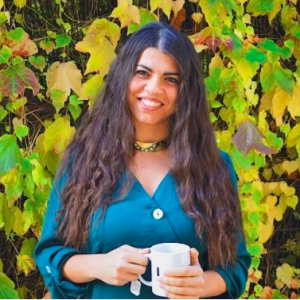 Josiane Smith
Josiane Smith is the Partnerships and Growth Manager at SIX. Josiane's main focus is on gathering market intelligence, convening the unusual suspects within the global social innovation field, building international ecosystems and capacity around social change, and creating opportunities for cross-sector exchange. An experienced facilitator, Josiane has delivered design thinking workshops and organized conferences for MakeSense, a global social purpose organization for citizens and social entrepreneurs. She became an RSA Fellow in 2014 and a Fellow of the London College of Political Technologists at Newspeak House in June 2019. Josiane spent five years in the Middle East working on social and economic development. She was the Country Coordinator for an international startup-mentoring program and a Social Development Specialist in a public cultural institution. She was also a Partnerships Director and Assistant Producer for a feature film and social project dedicated to boosting the local food system across Jordan.
SPEAKERS' BIOS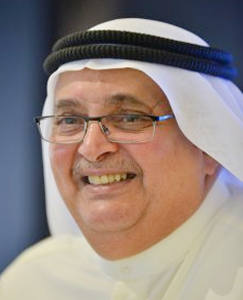 Faisal Alayyar
Mr. Faisal Al Ayyar is Executive Vice Chairman of the Kuwait Projects Company (Holding). He joined KIPCO in 1990 when it was a US$ 220 million regional investment company. Under his stewardship, KIPCO has developed into one of MENA's leading holding companies with interests in financial services, media, real estate, manufacturing and education, operations in 24 countries and consolidated assets of over US$ 32 billion. Of note is his leading role in the creation and development of OSN, the region's largest pay-TV company, the development of SADAFCO, a leading dairy and foodstuff producer in Saudi Arabia, and the expansion and subsequent sale of Wataniya Telecom, a major regional mobile operator.
Mr. Al Ayyar began his career as a fighter pilot with the Kuwait Air Force. Honors include the Arab Bankers Association of North America's 2005 Achievement Award, the Tunis Arab Economic Forum and the Beirut Arab Economic Forum 2007 Achievement Awards and the Kuwait Economic Forum 2009 Award for his contribution to the investment sector and successes in the global financial market. Mr. Al Ayyar was recognized by Kuwait's Al Anba newspaper as the leading business and investment personality for 2018.