GENERAL DESCRIPTION
The KIPCO Sharakah Forum is a yearly platform bringing together the most important leaders from the private, public and civic sectors in Kuwait to promote cross-sector partnerships and collaboration in the fields of social responsibility and social impact.
This year, the one-day forum will be followed by six workshops taking place over three days, from 11 to 13 March 2019, at the Chairman's Club (56th floor) in KIPCO Tower – Sharq. The overall theme for this year's workshops is "Digital Transformation for Social Impact". All six workshops will be focusing on introducing the key elements of effective digital transformation to NGOs, delivering the tools necessary for them to adopt and integrate innovative technology systematically and strategically across their organizations. This will be done in an effort to drive the sector's impact and core competencies both in its internal and external operations - introducing innovation, optimization and operational flexibility to NGOs in Kuwait. With a specific focus on the human element in the stages of transformation, these workshops will also aid local NGOs in developing a digital transformation strategy.
WORKSHOP DESCRIPTION
TOWARDS DIGITAL TRANSFORMATION: TACTICAL TECHNOLOGY PLANNING
We all can dream about using technology to make a dramatic impact on the cause we support or the people we serve. But if you want to make that dream a reality, where can you start? This workshop will provide you with tools to assess your organization's current technology, stabilize, and prepare for innovation. It will inspire you with real examples of organizations doing amazing things with modest resources. You will discover frameworks and tools from field leaders Tech Impact, Idealware, and Nethope, and will leave with some practical, prioritized, individual steps to move you closer to digital transformation. This workshop will be bilingual.
USER-CENTERED DESIGN FOR SOCIAL IMPACT
Design Thinking is a methodology used by startups and technology companies to develop new and innovative solutions to problems. As the process continues to gain traction in the business world, many nonprofits are asking how they can benefit from this approach. One clear way is to rethink how your nonprofit uses technology as a tool for social change. Technology should do more than make your nonprofit more efficient, it should unlock different approaches and enable you to deliver services in new ways that can better serve your population(s) and achieve your mission. This workshop will teach you, through hands-on activities, how to generate and refine ideas that can transform your organization. This workshop will be primarily in English.
BRIDGING THE GAP BETWEEN STRATEGY AND OPERATIONS
An operating model is used to assess an organizations' social value by translating strategic intent into operational capabilities. By enabling employees and volunteers through effective leadership and clear guidelines for execution, organizations can better assess the value they deliver to their beneficiaries and stakeholders and gain insight into how their current strategy affects their roles, processes, teams and supporting technology. In this workshop, participants will define their organizational needs as they relate to workplace productivity, promoting cross-organizational collaboration. Through productivity applications, participants will learn how to use tech tools to better facilitate the creation of digital teams, sharing of projects, tasks, calendars, tools & media, in order to work effectively across cultural, social and language barriers. This workshop will be bilingual.
DIGITAL RESPONSIBILITY AND SECURITY
According to the Verizon 2017 Data Breach Investigations Report, 25% of security breaches involved internal actors. Nonprofits are often targeted by would-be hackers, but many lack the knowledge and tools to protect their organization. In the nonprofit sector, work with vulnerable populations means safety and security of those individuals is a moral imperative. NGOs also need to identify secure sites, as well as the benefits and risks of giving information across devices, platforms and software. While it's critical to establish a culture of security, you can have the freedom to focus on impact with a smart security fabric composed of controls, workflows, and technology running seamlessly in the background. This workshop will be primarily in English.
THE DATA INFORMED ORGANIZATION
The term "big data" gets used (and misused) a lot, making it seem scary and expensive. But bigger isn't always better. Gathering the right data—and knowing how to use it—is what matters. This workshop is designed to help you ask the right questions, find the data you need, and use data to strengthen your organization. It will include a demo of a popular data analysis and reporting tool. You will leave with some concrete ideas for how to move your organization to a higher level of data maturity. This workshop will be primarily in English.
SPEED-NETWORKING FOR DIGITALIZATION
Participants will be given the opportunity to explore collaborations and resource-sharing with other CSOs, tech companies and digital high performers in order to be able to implement the previous workshop outcomes and adopt digitalization in the most cost-effective and sustainable way. NGO participants will receive coaching on how to pitch for collaboration before they engage in a one-hour speed-networking exercise with potential local partners. This workshop will be bilingual.
WORKSHOP SCHEDULE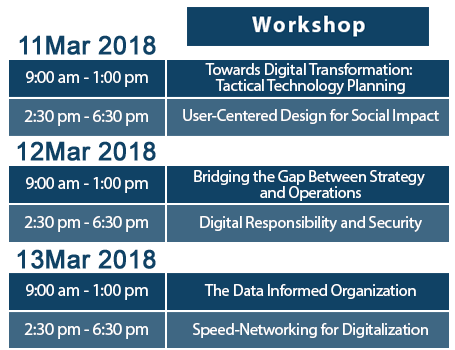 TRAINER BIOS
Karen Graham
Karen Graham is the Director of Capacity Building at Tech Impact, leading a team of researchers, instructors, and writers who create technology information resources designed to help nonprofit leaders put their vision into action. Starting as a local technology support organization and growing into the national leader in technology services for nonprofits, Tech Impact has been providing technology planning, implementation and support services to the nonprofit community for 15 years, and is recognized by Microsoft as the leader in Microsoft Cloud service providers for nonprofits. Karen was previously the Director of Idealware, an organization which helps nonprofits use technology to create greater social impact in their communities and make smart technology decisions. Her past experiences also include leading the technology consulting services and nonprofit technology learning and networking programs at Management Assistance Program (MAP) for Nonprofits, building the nonprofit CRM/ database solution provider, thedatabank, from a startup to a thriving software company, and various roles in arts and human services organizations. She holds an MBA in Nonprofit Management from the University of St. Thomas.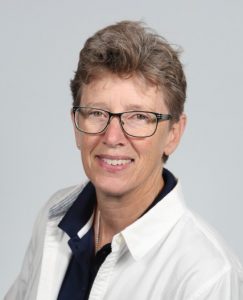 Linda Widdop
Linda Widdop is the Director of Client Solutions and Education at Tech Impact. She manages all aspects of client relations for Tech Impact, including educating nonprofits about technology solutions. With her support, Tech Impact has partnered with hundreds of nonprofits organizations around the world since 2003, to help each one realize the potential of technology to achieve their mission and improve outcomes. From large-scale technology projects, to technology maintenance and support, they view their work as an integral part of realizing social change by enabling nonprofits to be Productive, Secure, Informed and Innovative. Linda works with local, regional and national partners to provide the nonprofit community with increased knowledge of technology through speaking engagements, individual consultations and digital content delivery. She has worked in the computer industry for over 30 years, in roles which include manufacturing, retail, sales and has extensive technology training experience. She holds a Masters of Education degree from Arcadia University.
FORUM AGENDA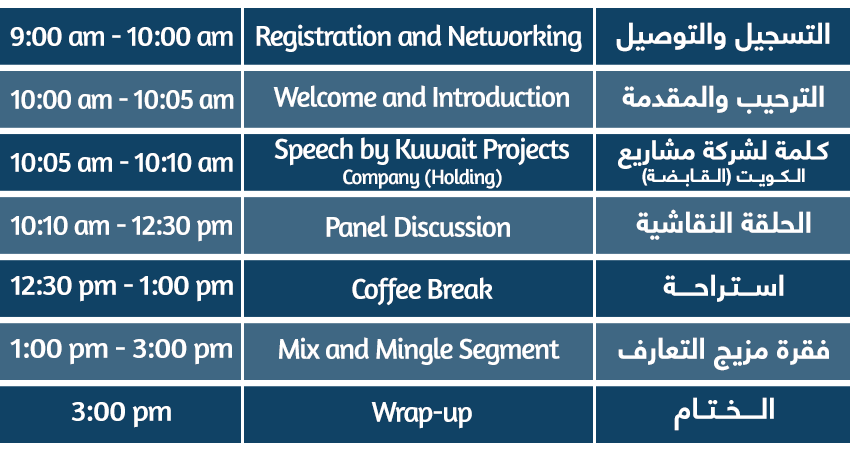 SPEAKERS' BIOS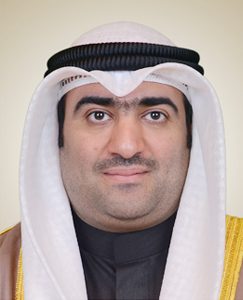 H.E. Khaled Al Roudhan

H.E. Khaled Al Roudhan is a visionary, passionate and entrepreneurial minister, driven by his strong belief in the capacity of Kuwait and its young people to alter the country's economy into a more liberal, inclusive and socially- just one.
Coming from a successful private sector background and a history of activism, he thrived, within one year of his mandate , to reduce the companies' registration time from three months to three days, legalizing " Home Business"  and implementing multiple policy imitative within the reform strategy he has put in place. His vision is to transform Kuwait into an economic and logistics hub for the MENA region, maximizing on the Kuwaiti and Arab talents to innovate and start their own businesses.
His professional journey within the private sector started in the marketing and advertising industry, until he started his own business "Senyar" which is a leading company with five subsidiaries specialized in advertising, production, public relations, technology, social media and sports management.
Educational Qualifications:
Collage of Business Administration – Kuwait University
Bachelor Business Management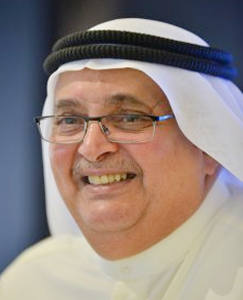 Faisal Alayyar
Mr. Faisal Al Ayyar is Executive Vice Chairman of the Kuwait Projects Company (Holding). He joined KIPCO in 1990 when it was a US$ 220 million regional investment company. Under his stewardship, KIPCO has developed into one of MENA's leading holding companies with interests in financial services, media, real estate, manufacturing and education, operations in 24 countries and consolidated assets of over US$ 32 billion. Of note is his leading role in the creation and development of OSN, the region's largest pay-TV company, the development of SADAFCO, a leading dairy and foodstuff producer in Saudi Arabia, and the expansion and subsequent sale of Wataniya Telecom, a major regional mobile operator.
Mr. Al Ayyar began his career as a fighter pilot with the Kuwait Air Force. Honors include the Arab Bankers Association of North America's 2005 Achievement Award, the Tunis Arab Economic Forum and the Beirut Arab Economic Forum 2007 Achievement Awards and the Kuwait Economic Forum 2009 Award for his contribution to the investment sector and successes in the global financial market. Mr. Al Ayyar was recognized by Kuwait's Al Anba newspaper as the leading business and investment personality for 2018.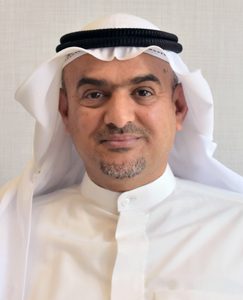 Dr. Salem Al-Hajraf

Dr. Salem Al-Hajraf | Currently Dr. Alhajraf holds the position as the Deputy Director General at the Kuwait Foundation for Advancement (KFAS). Before moving to KFAS, Dr. Alhajraf was holding the position of Executive Director for the Energy and Building Research Center at Kuwait Institute for Scientific Research (KISR) between 2013-2017. He is also the founder and director of the Shagaya Renewable Energy Initiative since 2009. Since 2005, Dr. Alhajraf holds the position of Research Scientist at the Kuwait Institute for Scientific Research then Manager for the Renewable Energy research program between 2010 and 2013. Dr. Alhajraf has more than 25 years of experience in various scientific research fields including renewable energy and clean energy technologies and feasibility studies. His experience covers strategic planning, new technology due diligence, fund rising, team formation, project leadership and execution. Since 2001, Mr. Alhajraf developed, managed and executed more than 15 client funded research projects and participated in many others. He also participated in many national, regional and international conferences, workshops and symposiums. He has more than 30 publications in pre-reviewed scientific journals and regional/international conferences.
He received a bachelor's degree in Mechanical Engineering from Kuwait University in 1993 and Master's degree in Business Administration from Kuwait University in 2008 and in Airodynamics, Collage of Aeronautics, Cranfield University, England 1997. He received Ph.D. in Mechanical Engineering, School of Mechanical Engineering, Cranfield University, England 2001.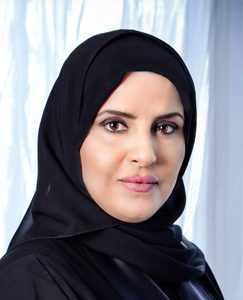 Amal A. Al-Mannai

Ms. Amal Al-Mannai is one of the women leaders and a key activist at the social work, sustainable development domain and Human Rights field. She is the Chief Executive Officer of Qatar Foundation for Social Work, a non-governmental Organization, which includes several Civil Society Organizations specialized in attaining different needs of different social groups (Social Development Center, Shafallah Center for Persons with Disabilities, Family Consulting Center, Orphanage Care Center, Empowering and Caring for the Elderly Center, Social Protection and Rehabilitation Center, Alnoor Center for Blind).
Ms. Al-Mannai Member of the National Human Rights Committee representing the civil society in the State of Qatar, Member in the National Committee of International Humanitarian Law – Ministry of Justice, and Member of the Advisory Board of the Center for Humanities & Social Sciences – Qatar University.
In 2014, Ms. Al Mannai has been honored at a prestigious ceremony for her vast contribution at the common areas of youth work, where she received the Medal of Excellence of the Secretariat of the Gulf Cooperation Council for the Leadership Category.
In 2013, she received the Arab Woman Award of the "Lifetime Achievement" category in Qatar, for her incredible contributions to the social sustainable development, and awarded the Annual Reward as one of the Civil Society Leaders across the GCC level in 2011, during the ceremony organized by "Tawasul" that was held in Muscat, Oman.
THE MODERATOR