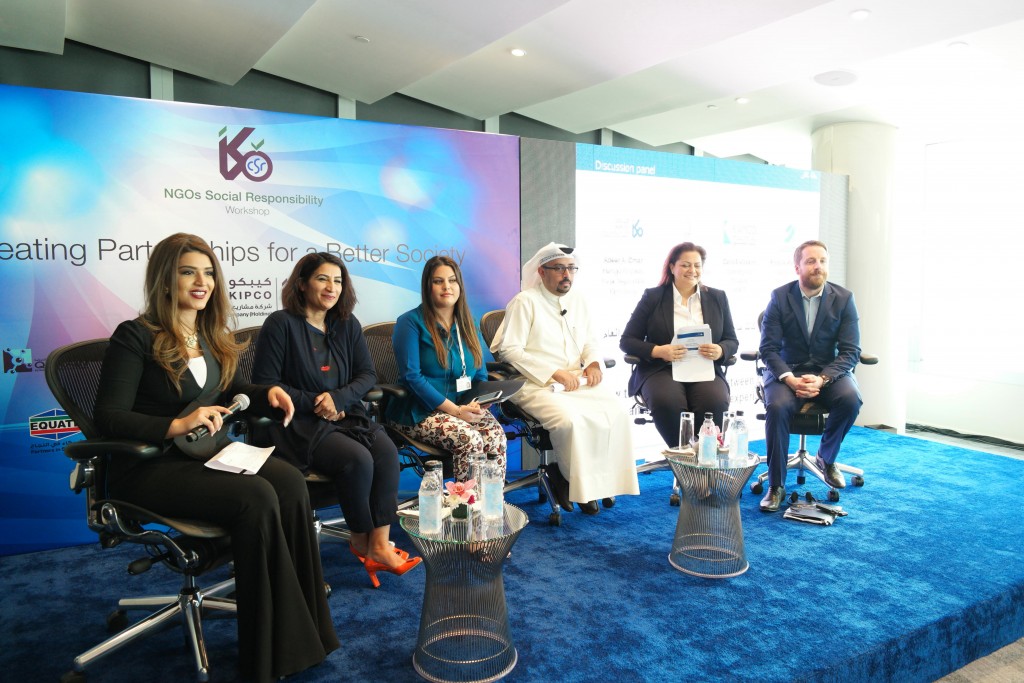 Kuwait Projects Company (Holding) (KIPCO) and its subsidiaries in cooperation with some of Kuwait's leading companies in the local private sector held a social responsibility forum in KIPCO Tower – 56th Floor, Monday & Tuesday 21/22 of March, 2016. Participants in the forum included National Bank of Kuwait, Zain and Equate Petrochemical Company, who play a prominent role in the community. Al Rai Group were also participating in the event as media partners. The corporate social responsibility (CSR) driven forum titled, "Creating partnerships for a Better Society" have included a workshop dedicated to helping Kuwaiti charitable organization improve their sponsorship exposure and fund-raising capabilities. The workshop have also served as a learning curve for local organizations by providing insight and advice towards approaching and communicating with companies within private sector.
KIPCO Group, as presented by Ms. Abeer Al Omar (CSR Manager) along with its subsidiaries, which include KAMCO Investment Company presented by Ms. Dana Al Jassim (Marketing Vice President), the American University of Kuwait, Presented by Ms. Amal Al Benali (Vice President of Admissions & Public Relations) and Burgan Bank presented by Mr. Fahad Al Reshaid (United Head Marketing Communication), All participated in the first panel discussion about the cooperation between non-governmental organizations and companies within the private sector. The Panel discussion addressed some of the important issues related to both NGOs and the private sector in order to establish new partnership and strengthen current ones.
The second panel discussion has involved the four non-KIPCO group companies previously mentioned in partnership with the Kuwait Foundations for the Advancement of Science, discussed their roles in improving the developing the community through a variety of CSR activities. The Panel discussion has covered the companies' accumulated years of experience and knowledge in implementing socially responsible activities, at times with the support of NGOs.
Manager of KIPCO's Corporate Social Responsibility Department, Ms. Abeer Al Omar, said, "This workshop follows on from a successful predecessor held three years ago to ensure continuous outreach within the local community. Working side by side with multiple NGOs and associations, in cooperation with KIPCO Group subsidiaries, previous and current participating leaders, we have covered a variety of different sectors in Kuwait to ensure sustainable development within our community."
Ms. Al Omar added, "We were keen to invite a group of social media activists to attend this workshop to gain their support and highlight the important issues in the community through the different social media platforms, which plays a significant role in our society today. Having said that, we have organized this workshops, titled "Creating Partnerships for a Better Society", to strategically gather some of the most influential NGOs and associations under KIPCO's socially responsible initiative to enhance the local community as a whole."
She concluded by saying, "We were delighted to share this experience with reputable companies such as Zain, National Bank of Kuwait, EQUATE Petrochemical Company and Al Rai Media Group as our partners in the workshop. Their level of consciousness and response calls attention towards the vital role that corporate social responsibility plays in our society."
We extend our gratitude to all those who participated in this workshop, especially…
KIPCO Subsidiaries:
KAMCO, Presented by Mr. Faisal Sarkhouh, CEO / Ms. Dana Al Jassim (Marketing Vice President)
AUK, Presented by Ms. Amal Al Benali (Vice President of Admissions & Public Relations)
Burgan Bank, Presented by Mr. Fahed Al Reshaid (United Head Marketing Communication)
Proteges, Presented by Mr. Shamlan Al Bahar (Director)
Corporate Partners:
Zain, Presented by Mr. Waleed Al Khashti (Corporate Communications & Relations Director)
NBK, Presented by Ms. Joan Al Abduljaleel (Communications Officer)
EQUATE, Presented by Ms. Asrar Mohammed (Corporate Communication Executive)
Al Rai Media Group, Presented by Mr. Yousef Al Jalahma (Vice Chairman)
KAFAS, Presented by Ms. Manar Al Rashed (Program Manager – Scientific Culture) / Dr. Salam Al Ablani (Director of Scientific Culture)
Social Media Activists:
Abdulrazzag Al Mutawa (Ghaliah Tech General Manager)
Abdulwahab Al Essa (O Media General Manager)
Abdullah Boftain (Local Social Media Activist)
On day 2 (22nd of March 2016), after welcoming and introduction by Ms. Abeer Al Omar, the audience have witnessed a presentation and applied exercises about "Considerations of Building Partnerships" & "Social Impact Measurement" in addition to performing group discussions in regards of key points raised during the 2 days of the forum.
Photos of the Press Conference which was held on 20th of March 2016, in addition to the 2 days workshop (21st / 22nd of March 2016) are placed below: